27″ Hyperbaric Chamber
Features:
Comes with 1 Compressors!
46oz. heavy duty, double-laminated ballistic grade nylon material
Four Large View Ports
Exclusive Port Pressure covers for strength, safety, and peace of mind (prevents "bug eye" effect when pressurized)
Easily readable pressure gauge
Airtight seal is a pressure activated face-to-face FDA Grade Omni-environmental barrier 3 security zippers.
Welded bulkheads and construction (no glues or fumes)
Two 4 psi. preset automatic pressure relief valves (metal – not plastic!)
Heavy Aluminum frame
ONE Quiet compressor w/ 10 ft. hose & connections
4" Fortis foam mattress w/disinfectable cover
(32"chamber includes a 2" mattress)
2 Year warranty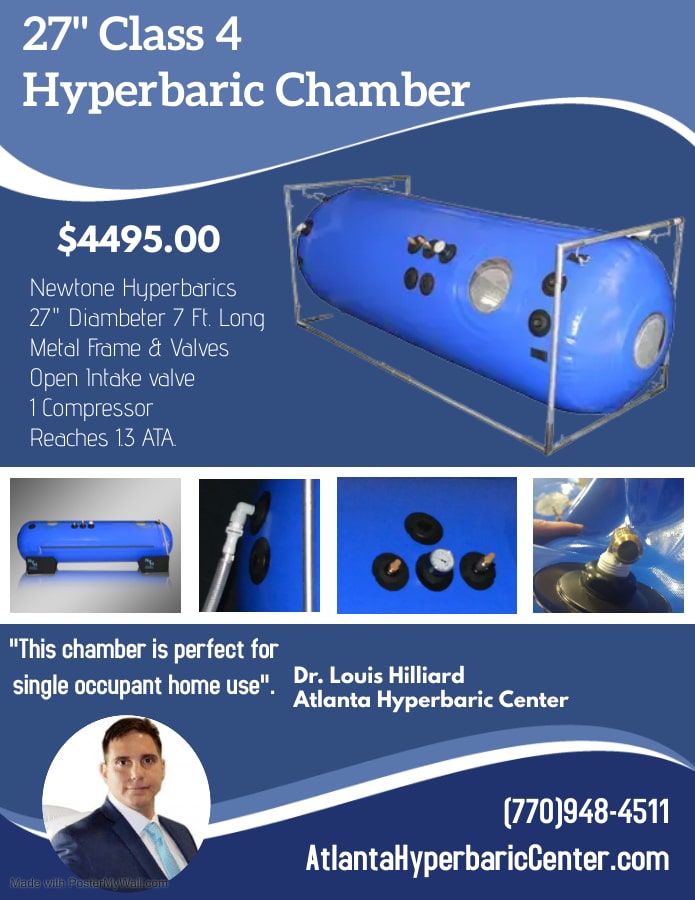 Previous
Next
The Seal 27"  Mild Hyperbaric Chamber by Newtowne sets new standards for mild hyperbaric chambers. Advanced materials and next-generation design make the Class-4 Mild Hyperbaric Chamber the safest and most user-friendly single bag, mild hyperbaric chamber available.
Newtowne Hyperbarics has once again set a new industry standard with the introduction of the Seal 27" Hyperbaric Chamber.  This home/office mild hyperbaric chamber boasts a new entry system featuring a pressure activated face-to-face Omni-environmental barrier. Advanced materials and next-generation design have led to a chamber that is both safe and easy to use. Safety features include redundant metal pressure relief valves, dual security zippers, welded construction, and e port covers. Newtowne Hyperbarics is so confident in this product's strength and durability we are offering an unprecedented 2-year warranty on this extraordinary mild hyperbaric chamber.
Military and First Responders we salute you for your sacrifice and service.  For your bravery, courage, and service we are offering you a discounted rate on all of our hyperbaric chamber and equipment.
Steps to take before purchasing a chamber
Call us to discuss the best chamber for your needs at 770-948-4511
Determine your Use: Personal or Professional
Determine the size chamber you need and your budget
Need questions answered:  Give us a Call: 770-948-4511.
Do you have documentation: Doctor's Prescription of patient for personal use or business ID and/ or Medical license for business are required. For Military Discount you must provide DD 214 or active military ID, or first responders ID.
Need Training? No Problem. Patient safety is number one!  You need to know and learn how to use your hyperbaric chamber. Take our online training course.
Read all policies before to purchasing.
Shipping: Allow 7-14 days of your order. Note: You will be receiving shipments from different vendors.  Bundle Equipment may come at different times.
The sale of this item may be subject to regulation by the U.S. Food and Drug Administration and state and local regulatory agencies.  If so, do not buy this item unless you are an authorized purchaser.  If the item is subject to FDA regulation, I will verify your status as an authorized purchaser of this item before shipping this item.